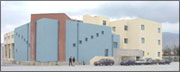 The Center is located in a modern building at the Pedion Areos Campus of the University in Volos.

Research activities are supported by a Computer Center as well as several specialized laboratories equipped with the latest technology hardware and software for Statistical Analysis, as well as GIS, CAD, Telematics & Remote Sensing, Special Applications in Multimedia and Geographical Analysis.

The Center has an important collection of books, articles and statistical data relevant to its research objectives. Researchers can also use the Library of the University of Thessaly as well the Library of the Department's post graduate program.

The Library collection of the University consists of about 80.000 volumes of books, 778 international and 50 Greek journal subscriptions. Also there is a large collection of topographic, geological and soil maps and a developing collection of audio-visual material. There is also a great number of Internet Library Resources.